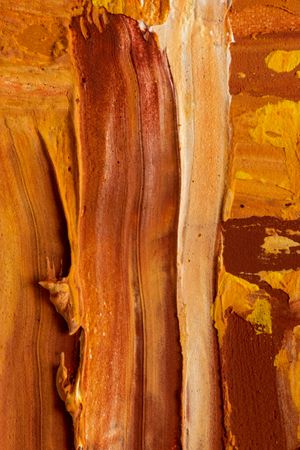 The 'Trish, Hans & Phil' Story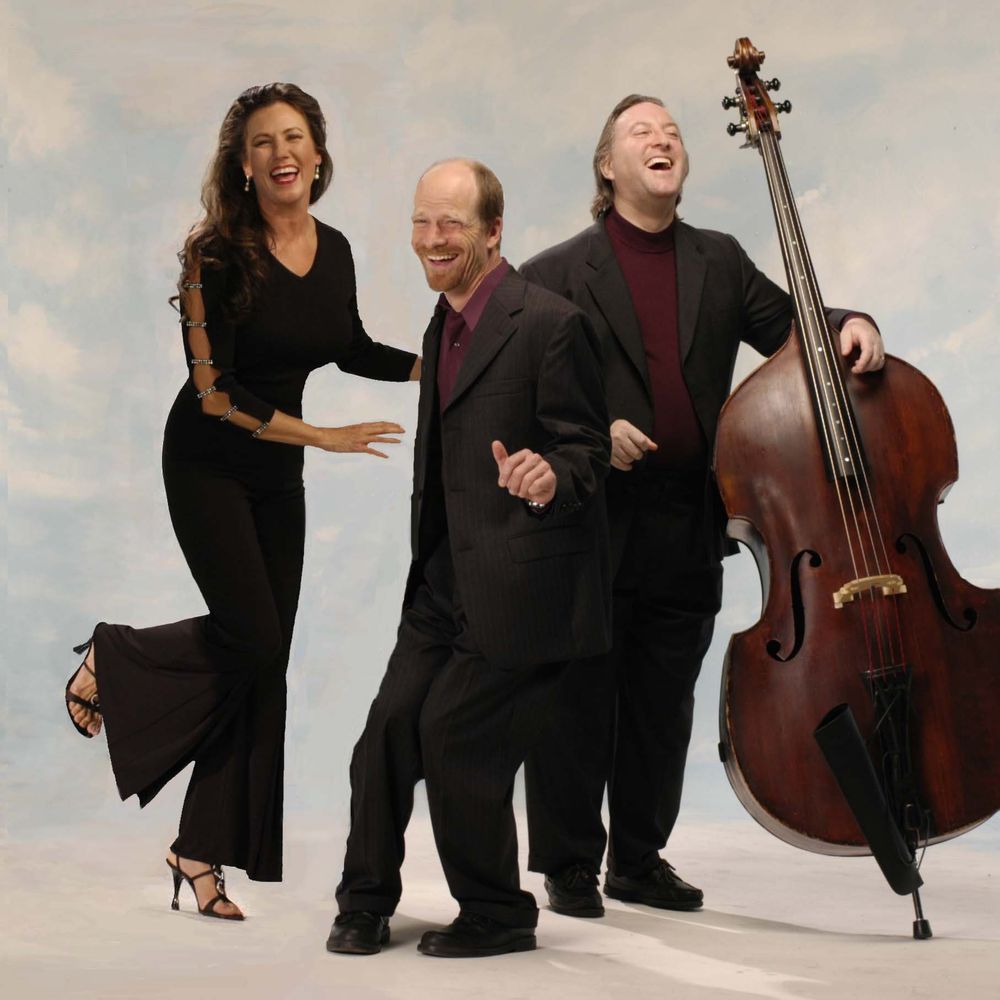 It all started in the early nineties in the little one-street town of Conway, Washington. Trish was singing at the Conway Tavern which was to become, under her direction, home of the legendary Sunday afternoon jam sessions. Musicians would come from far and wide to partake in what was perhaps the best audience for jazz in the Northwest.  
Well, one day Hans and his motley crew rolled down from Bellingham to be the house band du jour. He did something to make Betty Boop (the most ardent fan of anything anywhere) laugh, and Trish knew she had found something. One thing led to another, and soon they were playing at the Woodmark Hotel in Kirkland every Wednesday and Thursday. During this stint, they found themselves in need of a new bass player.  Enter Phil.  
Hans kept saying, "I don't think this is the right guy," but once again, Trish knew they had found something. How did she know this? Hans figured it could only be all that hair she had. Nothing else made sense. Anyway, turns out Phil could sing, muscled his way into some of the vocal duets, and voila! some of the most fun any of them had been part of was happening. Hans and Phil started writing three-part vocal arrangements, Trish kept growing her hair  (Hans still swears there's some connection between her talent and her hair), Betty Boop kept laughing, and after some fits and starts, they FINALLY made a recording.
Now,  28 years later this Trio has two CD's and they are working on number three.  They have kept audiences laughing and loving the music for almost three decades. 
Reviews
"They are bright, swinging and entertaining"  Jim Wilke – Jazz After Hours NPR 
   *********** 
'They really knew how to communicate with an audience and had our folks in the palm of there hands for two hours'!
David Joyner, Director of Jazz Studies, Pacific Lutheran University - PLU   Jazz Under The Stars Concert Series
  ***********
Wow, Trish is great!  She has done some great recording.  I love the trio sounds they get!
That guy that sings duets with her (Hans) is such an accurate singer. I'm impressed!
Ross Barbour , The Four Freshmen   Oct 2005
 ***********
One thing that comes through clearly is that this is a group that has a lot of fun performing, and you will have fun listening to them'!
Jersey Jazz Magazine, Joseph Lang 2010
 ************
The Voices of the Seattle visitors Trish, Hans & Phil are a perfect blend. When the three harmonize, the sounds they make are enough to soothe the savage beast in just about anyone.
New York Theater, Backstage  By David Finkle  2007 
************
This is an awesome article on one of Trish, Hans & Phil club gigs...well done and so true!
Trish, Hans & Phil play around with jazz at North City Bistro 
Seattle Examiner 2016   by Carol Weber 
CAPTION:  Hail, hail, the gang's all here to cut up on jazz: drummer Ken French, bassist Phil Demaree, keyboardist Hans Brehmer, vocalist Trish Hatley, and saxophonist John Anderson. 
This clearly wasn't a straight-ahead jazz gig, maybe a rock revue or something. Last night, people of all ages packed the North City Bistro & Wine Shop in North Seattle, hooting and hollering, whistling, making off-color jokes, and carrying on — and that was just the band. 
What was going on? Oh, that's Trish, Hans & Phil, a trio of gifted, but fun-loving, musicians putting the entertainment back in jazz up and down the Pacific Northwest since in the 1990s. 
Jazz vocalist Trish Hatley spends half her time in Seattle and the other half in the sunnier climes of Palm Springs, Calif., going around performing in various, usually jam-packed shows. Together with Washington keyboardist Hans Brehmer and bassist Phil "Babe" Demaree, they've developed quite the fun and funny repertoire that an ever-growing list of fans can't get enough of. 
Usually at North City Bistro, and anywhere else for that matter, the crowds disperse halfway through the gig. Not at this one. Everyone stayed — for jazz. 
Maybe it was the way Hatley kept dropping her lines later on in the gig, but going with it, at one point peering comically into her cell phone for the rest of the lyrics to Kansas' "Dust In The Wind" (and "I've Grown Accustomed To Her Face"), and gratefully putting on the reading glasses a member of the audience offered up midway in Brehmer's beautifully seamless instrumental fill-in. 
Maybe it was the three-part, Manhattan Transfer-worthy harmonies Hatley, Brehmer, and Demaree slip into, in and out of character, trading good-natured barbs and changing the lyrics slightly to reflect their goofy natures, getting into character as a jilted lover on a cursing spree. 
In between the comic relief, the audience found true jazz, presented honestly, without ego or defensive agenda. What a relief to find Brehmer quietly churning out volumes of empathy in his profound arrangement of a Beatles favorite, "Eleanor Rigby," as Demaree turned his upright bass into a Flamenco guitar, adding his own company to the original song's human desolation. 
After piping up about wanting to whistle in the last song, Hatley did just that, quite well, as two couples got up to swing dance. Before that, she and Demaree comically and earnestly — quite the feat — played their vocals as a human horn section, trading quickie solos with Brehmer on keys. 
Joining the frivolity mixed in with serious jazz were frequent partners-in-crime, longtime drummer Ken French up from Arizona and Conway, Wash. saxophonist John Anderson, swapping tenor for soprano, and sometimes joining in on the three-part harmony. 
The audience also participated freely in the ongoing jazz sitcom. Take note, elitist jazzers. 
Early on in the first set, Hatley didn't just thank someone for dropping bill in the band's tip jar. She made it a part of the act, quipping, "We'll sleep with you if it's good enough." 
"Sometimes I'm Happy" elicited roars in the middle of another hilarious Hatley and Brehmer duet — these two share an uncommon chemistry bordering on twisted siblings. When they began singing the lines, "Sometimes I love you | Sometimes I hate you | But when I hate you | It's 'cause— " Hatley inserted, "you're an asshole," which made Brehmer turn and mock-glare at her. 
After Hatley and Brehmer ended the evening with the "Go to sleep… It's time for beer" lullabye, the band received a well-deserved standing ovation. "This is what makes our world go 'round," Brehmer said, clearly moved. 
Only a handful of established jazz artists dare try comedy in their routine. Drummer Dave Tull and bassist Jay Leonhart do it exceptionally well. 
Put Trish Hatley, Hans Brehmer, and Phil Demaree up there too. Besides, comedy works to attract and keep people in their seats for a jazz show, which traditionally tends to have them squirming after one more toe-gazing instrumental mind-f*ck without any breaks. 
For the most part, the band at the North City Bistro last night traipsed lightly through two sets of often-forgotten, lush, musical standards, like "Too Long At The Fair," which they did as a ballad, then as a fast carnival ride, "Jeanine," and "Route 66." 
For those in the audience, Hatley also had the trio's riotous 2005 Greatest Hits Volume #1 album available. Look for an AXS review soon. 
Little blue pills, and a twisted Sinatra with Trish, Hans & Phil 
Carol Weber